Main information:

Celebrating in style


Nymphenburg Palace: your venue for events and celebrations
Overview
The Orangery tract of Nymphenburg Palace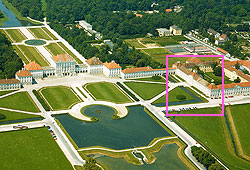 Treat yourself to a very special experience!
Enjoy the unique ambience of Nymphenburg Palace and be assured of an unforgettable evening for yourself and your guests. The Bavarian Palace Administration offers you the use of the Orangery tract, the exclusive event area in the north wing of the Nymphenburg Palace complex in Munich.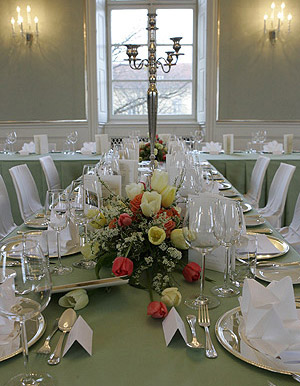 With the Hubertus Hall (over 350 square metres) as the main event room, the Orangery Hall (170 sq m), the Johannis Hall (approx. 125 sq m) and the two spacious foyers, a multifunctional room complex is at your disposal.
Concerts, banquets and theatrical performances were already being held in the Hubertus Hall in the 18th and 19th centuries. Continue in this tradition and sample the life-style of the high nobility with your guests in these unique surroundings.
The halls, which have been comprehensively restored on the basis of historical data, can be used for a variety of purposes: for concerts, readings, award ceremonies, anniversaries, presentations, congresses and meetings, fashion shows, gala dinners, family celebrations and receptions.
We look forward to hearing from you and will be happy to assist you with the planning of your individual event (contact).
---
Infrastructure

The main entrance of the Orangery tract is located beneath the distinctive clock tower of the north wing. The Orangery Hall is to the left of the spacious foyer on the ground floor (approx. 158 sq m). Also on the ground floor are the cloakroom and toilets (wheelchair accessible) and the access area for catering deliveries.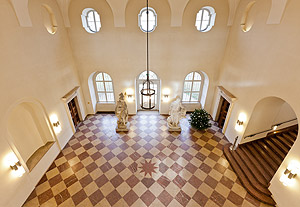 The event area has a lift (wheelchair accessible) and a goods lift. A sweeping staircase connects the foyer on the ground floor with the one on the upper floor (approx. 118 sq m). On the upper floor are the Hubertus Hall and the Johannis Hall. Adjacent to the Hubertus Hall is a modern kitchen tract which serves as the catering area (approx. 150 sq m).
There are plenty of free public parking places close by in the north palace crescent.
---
Technical data
---
Hubertus Hall (upper floor)
392
(with 4 x 6 m stage)
369
(with 4 x 8 m stage)
---
Johannis Hall (upper floor)
---
---
Orangery Hall (ground floor)
---
Foyer on the ground floor
---
Equipment at the Orangery tract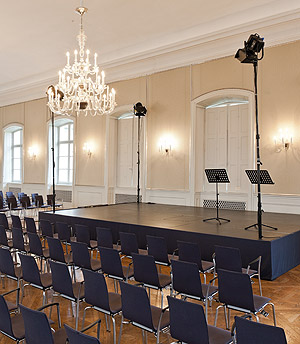 18 Stage elements each measuring 1 x 2 m, standard height 60 cm (further heights on request)

variable stage lighting (4 spotlights)

lectern

14 music stands

10 bistro tables (70 cm in diameter)

400 concert chairs 200 of which with arm rests and 200 without arm rests

Orangery Hall: 2 speakers with variable mounting possibilities, cable microphone
The halls are basically provided in an empty state.
For concerts the usual rows of chairs are included.
---
Cross section through the building